The AFRIMED consortium is a multi-disciplinary partnership with skills in marine ecology, spatial modelling, ecosystem restoration, socio-economics, knowledge transfer, dissemination and communication, from the multifaceted world of business (1 SME from 1 EU country), academia (5 partners from 3 EU countries, 1 partner from the Adriatic-Ionian Macro-regional Strategy and 2 partners from the Western Mediterranean Initiative), research (4 partners of which 2 from EU countries) and non-profit-making organisation (1 partner from EU country)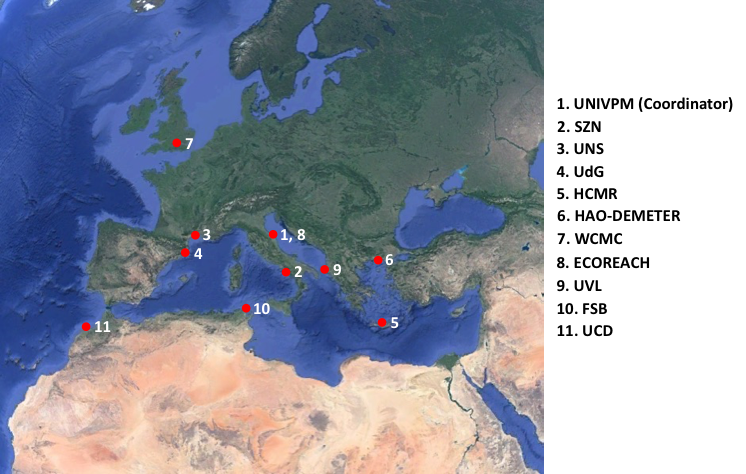 Figure 1. Partners involved in AFRIMED
The AFRIMED consortium has a history of successfully working together on EU projects related to the restoration and conservation of marine ecosystems (e.g. MERCES, CoCoNET, LIFE ROC POP), which provides a unique body of experience and cooperation which will maximise the results of this project. An important added value is the involvement of partners in Morocco, Albania and Tunisia, where signs of forest loss have been recently detected and where prompt action is required (Fraschetti et al. 2011, Bouafif et al. 2014, Hanif et al. 2014).
The consortium will work jointly in a concerted and complementary manner in order to achieve all the objectives of the proposal and the wishes of the Commission. Consortium members are included due to their scientific excellence and specific experience on the activities and topics covered by AFRIMED. Moreover, the partnership has been built in order to include partners and participants of eligible Mediterranean third countries (in particular the Adriatic-Ionian Macro-regional Strategy and the Western Mediterranean) to allow and support restoration projects according to the objectives of this call.
The close collaboration between teams from Academia, Research Institutions, SME and a non-profit-making organisation will ensure wide coverage of the outcomes detailed in the call and set out in this proposal. The Universities involved in AFRIMED will provide a close link between research and development actions through a new generation of students guaranteeing, at the same time, high levels of scientific excellence. Research Institutions within the AFRIMED consortium will ensure connections with national and international policy and governance bodies. They also provide a large number and variety of research infrastructures. The presence of SME will allow the Consortium to benefit from a skilled team dedicated to dissemination and communication of the restoration project results. Finally, the involvement of a non-profit-making organisation will increase awareness on the risks and opportunities of marine restoration in Mediterranean citizenship.
The consortium has been built to provide trans-disciplinary competences to implement a large-scale project in the Mediterranean basin.
Partner 1 Polytechnic University of Marche (UNIVPM): is the Coordinator of the project leading WP7 and co-leader of WP6;
Partner 2 Stazione Zoologica Anton Dohrn  (SZN): is co-leader of WP2 and WP3;
Partner 3 Université Nice Sophia Antipolis (UNS): is co-leader of WP5;
Partner 4 University of Girona (UdG): is co-leader of WP2;
Partner 5 Hellenic Centre For Marine Research (HCMR): is co-leader of WP5;
Partner 6 Hellenic Agricultural Organization-Demeter (HAO-DEMETER): is co-leader of WP1;
Partner 7 Un Environment World Conservation Monitoring Centre (WCMC): is leader WP4;
Partner 8 ECOREACH L.t.d: is co-leader of WP6;
Partner 9 University of Vlora "Ismail Qemali" (UVL): is co-leader of WP3;
Partner 10 Faculty of Sciences of Bizerte, University of Carthage (FSB): is co-leader of WP1;
Partner 11 University Chouaib Doukkali (UCD): supports tasks related to the field and laboratory work (WP2 and WP3).